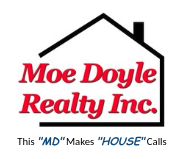 Property Management
Why choose Moe Doyle Realty Property Management? The answer is rather simple. We treat your property as if it was the only property we handle. We only manage a limited number of properties so that we can maintain that personal touch with not only the owners, but also the tenants. A happy tenant usually makes for a happy owner. At Moe Doyle Realty, we want Customer Service to be a way of life, not just a catch phrase. By staying small we keep cost down and pass that along to you the owner.
Listed below are just a sample of some of the things we provide in our Property Management service.
Initial Rental Charge: When a new tenant is put in a property, we charge 50% of 1 month's rent. This covers all the advertizing fees, lease prep fees, background checks, account set up, etc. This is only charged when a new tenant is placed in the property. If you have a tenant in place or the tenant renews the lease, the charge is a normal monthly charge.
Monthly Charges:
10% of the rental payment PER MONTH will be charge to cover our expenses. If there is no tenant in the property, there is no charge from Moe Doyle Realty, Inc. We will still check on the property and do everything we can to get you a qualified tenant. Funds will be distributed before the 15th of the month to give all tenant checks time to clear the bank. We will deposit the money in any account you want, as long as we have access to that bank or trust company, or we can send you the proceeds electronically if that option is available at your bank.
Monthly Statements:
Before the 10th of each month, we will send you a statement showing all the expenses and income for the month for your property. This will be an ongoing statement that shows the amount of income and the expenses to run the property since you hired us to manage your real estate investment. This is a great tool to not only keep track of your profitability on each property we handle, but also a form you can take to your tax attorney at the end of the year.
Maintenance Funds Escrow Service:
We can withhold extra funds each month and hold them in a maintenance escrow account for you. Normally most owners want us to take 10% of the fund we would forward to them and place it into the escrow account in case of a major repair. This way the expense won't hit your budget as hard and we can make the repairs right away and not have to wait until the money is sent to us. This is especially helpful when an AC or major appliance stops working. If you prefer to keep your own funds for this purpose we can usually provide a little float of the funds needed for the repair or replacement. This will of course depend on the cost and the number of issue we have that month.
We have established several vendors in Orlando that give us the best cost for repairs. We handle these vendors for you. From the time we need to get estimates, to completion of the repairs, we will be there.
LEASES;
Our leases are drawn up by an attorney that specializes in rental agreement. Their office keeps us informed of any significant legal issues or changes and they provide legal guidance for us when a question does arise. These leases are at no cost to you. Moe Doyle Realty, Inc will pay for the cost of the lease.
One on One Service - 7 days a week:
When you or the tenant call our office, they will get either Rod or Moe. No answering service, or a third party that will relay the message. We answer the phones as soon as possible, no matter if it is the weekend or Holiday. We will field all calls for you and take care of the minor issues at no, or minimal cost if at all possible.
If you have any questions, please let us know.